What is Rollercoin?
Rollercoin is a play-to-earn mining simulator game where you can earn free crypto for playing games. You can also reinvest your profits to buy miners and earn a steady stream of crypto passive income, more on miners and how to get RLT later in the article. Rollercoin is a rapidly growing site that has steadily proved to be among the best ways to earn free crypto as well as one of the best passive crypto games. New features are constantly being added to Rollercoin, with recent additions including Rollercoin electricity, Rollercoin bonus power, Rollercoin lootboxes, and the Rollercoin event pass.
Disclaimer: There are affiliate links used in this article. Passive Pete may receive a commission when you click affiliate links in this article. Clicking affiliate links in this article will not cost you anything extra. Thanks! – Passive Pete
Disclaimer: Information available on this website, WorkSmartEarnMore.com, is not financial advice. Information on this website, WorkSmartEarnMore.com, is not legal advice. Passive Pete is not a financial advisor, a lawyer, or an accountant, and Passive Pete is not your financial advisor, lawyer, or accountant. Any action you take upon reading information in this article or on this website is solely at your own risk. Information on this website is solely for educational purposes and individuals should consult qualified professionals (i.e. Not Passive Pete) for financial or legal advice.
What Crypto Can You Earn on Rollercoin?
There are currently 7 different cryptocurrencies you can earn by playing Rollercoin. New cryptocurrencies are also introduced regularly at the beginning of each new season, more on seasons later in the article.
Right now in Rollercoin you can
Earn Free Bitcoin (BTC)
Earn Free Dogecoin (DOGE)
Earn Free Ethereum (ETH)
Earn Free Binance Coin (BNB)
Earn Free Polygon (MATIC)
Earn Free Solana (SOL)
Earn Free Rollercoin token / Rollertoken (RLT) (More on RLT later in this article)
How does Rollercoin work?
There are 3 key variables that determine how much crypto you can earn by playing Rollercoin, with these variables being Mining Power, Block Reward, and Network Power.
Mining Power is the first variable to understand. You get mining power every time you complete a game. The mining power you earn will passively mine the crypto of your choice. This mining power you earn from games will last up to 7 days. You can also invest in miners for permanent mining power, more on this under the 'What are Rollercoin Miners?' section.
Rollercoin Block Reward is the amount of crypto shared by everyone playing Rollercoin and mining the same crypto. The Block Reward is earned every 10 minutes and varies in amount based on crypto.
The Block Rewards for each crypto are listed below
Bitcoin (BTC): .0003 BTC
Dogecoin (DOGE): 20 DOGE
Ethereum (ETH): .005 ETH
Binance Coin (BNB): .012 BNB
Solana (SOL): .05 SOL
Polygon (MATIC): 3 MATIC
Rollertoken (RLT): 30 RLT
While these amounts might not seem like much, you earn passive income every 10 minutes, or 6 times an hour and 144 times a day, allowing you to accumulate crypto relatively quickly.
The final variable to understand is network power, or the total power of everyone mining the same coin as you. Network power often fluctuates, especially during weeks where the block rewards of 2-4 cryptos are increased.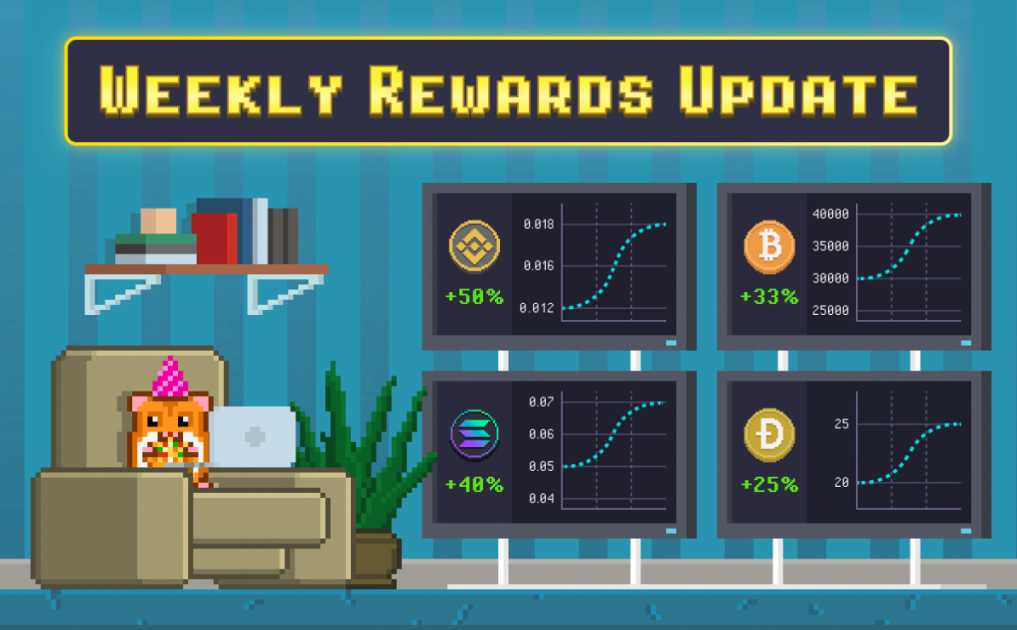 In short, the amount of crypto you can earn every 5 minutes is calculated as the block reward * (your mining power / total network mining power).
The amount of crypto you will earn per 10 minute cycle is always displayed on the left of the homepage under the 'Your Reward' tab.
What are Rollercoin Miners?
Rollercoin miners are investments you can make to earn passive crypto income. Miners vary drastically in price and mining power, with some Rollercoin miners being more cost-effective than others. Rollercoin miners last forever and will provide passive crypto mining as long as you have electricity, more on Rollercoin electricity in the section below.
Special sales and promotions are the best time to buy Rollercoin miners, with some miners being sold for less than 50% of normal value. Rollercoin sales happen semi-frequently, so stay on the look out for new sales, especially around holidays and the beginnings of new seasons.
All purchasable miners are purchased with Rollertoken, more on how to get RLT in Rollercoin later in the article.
Related: Which is better? Rollercoin or Bitcoin Mania?
There are 5 main ways to obtain Rollercoin miners.
The first and most obvious way to obtain miners in Rollercoin is through the shop. The shop contains an unlimited amount of miners, although the miners available in the shop are usually not as cost-effective as those found in sales or lootboxes.
Daily and weekly sales are the second way to obtain Rollercoin miners. These sales often begin on Thursday at 8pm EST, but sometimes surprise sales do arise. Daily and weekly sales are a good way to get passive crypto miners with a good ROI. Daily and weekly sales can be accessed through the top of the shop page under the tab titled "Sales and Popular."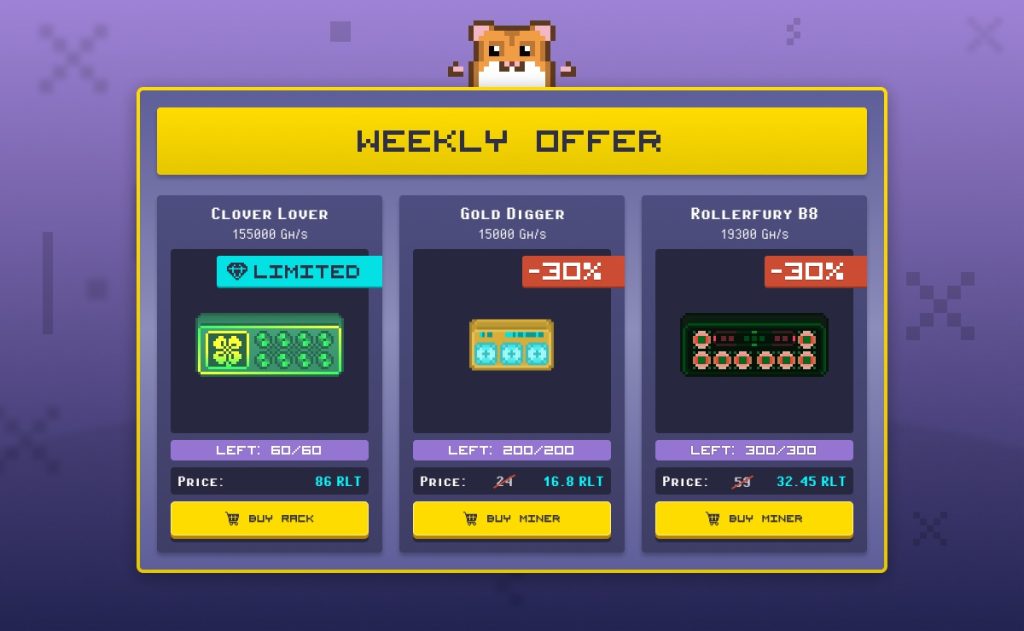 Limited time seasonal sales often occur around holidays and offer limited time miners. Rollercoin miners available during seasonal sales are often exclusive to the sale and often offer a higher mining power and bonus power for less cost than the normal supply of miners.
Event Passes are the fourth way to get miners in Rollercoin. Event passes reward users with miners, miner upgrade parts, RLT, bonus power, and more for completing tasks. These tasks can include playing a game a certain amount of times, visiting Rollercoin's social pages, buying a lootbox, and more.
There is a free version of the event pass and a paid version. While the free version of the event pass does offer free passive crypto miners, the paid version offers a larger amount of more powerful Rollercoin miners. The cost of the paid version of the event pass goes down the more progress you make in the pass by completing tasks. The event pass can be purchased in the store under the 'Event Pass' tab during active seasons.

The fifth way to get Rollercoin miners is by opening lootboxes. Lootboxes are often available during special events like holidays and during the beginning of new seasons. Rollercoin lootboxes are often limited, often with a limit of 10,000 or 100,000 lootboxes. The percentages for Rollercoin lootbox droprates are always listed on the Rollercoin blog as well as before purchasing a lootbox. Rollercoin lootboxes can be purchased under the 'Lootboxes' tab in the store.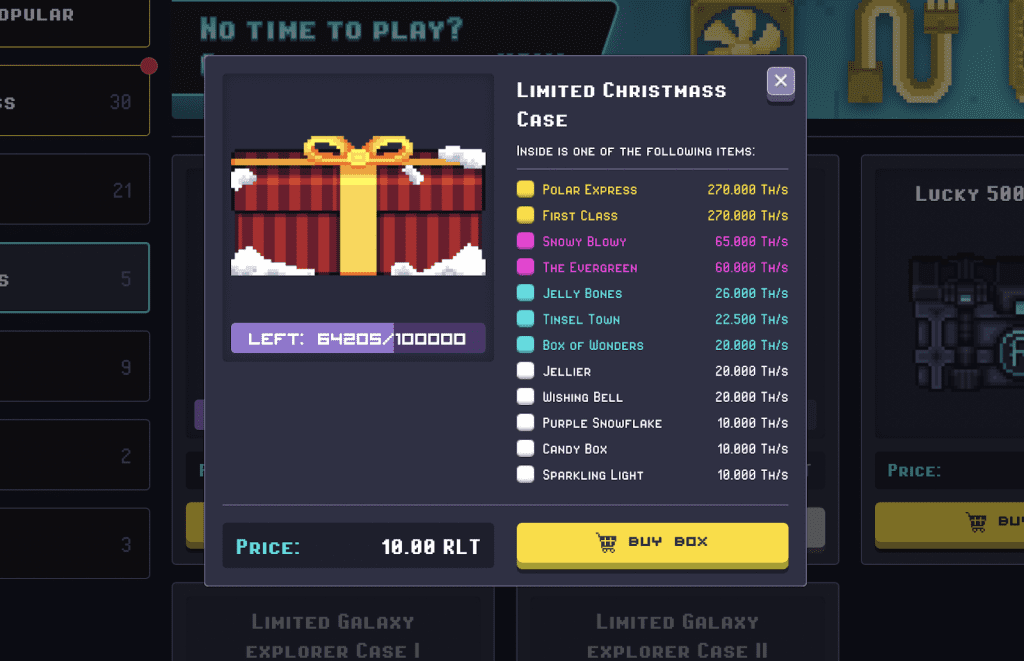 You can occasionally get free Rollercoin miners as a drop from playing games as well, but the mining power given by the free miner drops is nearly nothing.
Rollercoin occasionally hosts official giveaways where you can earn free miners as well.
What is Rollercoin Bonus Power?
Rollercoin bonus power is a lot like the name implies, it is a percentage-based bonus power based on how much mining power you have and how many different Rollercoin miners you have. Each miner gives a different amount of Rollercoin bonus power based on how rare and how expensive the miner is, with some miners giving as low as an extra .15% Rollercoin bonus power and some giving as much as 5% bonus power. Rollercoin bonus power can quickly accumulate, with some users having 200%+ bonus mining power, effectively tripling their amount of passive crypto earnings.
How to Upgrade Rollercoin Miners?
Rollercoin miners can be upgraded, or merged, to form powerful new miners with higher mining power and Rollercoin bonus power. You can craft Rollercoin miners through the far-right tab on the top menu where the games and shop tab are located. Once there, you can view the miners you can craft under the 'Collection' tab. You need 2 of the same miner and a varying amount of parts to upgrade your Rollercoin miner. Parts can currently be bought in the store and earned from games and can be bought and sold in the marketplace in the future.
What is Rollercoin Electricity?
Rollercoin electricity is necessary for purchased miners to continue mining cryptocurrency passively. Rollercoin electricity is free and you can regain Rollercoin electricity just by logging in and hitting recharge on the home page. You can recharge Rollercoin electricity once every day. Rollercoin electricity lasts for 5 days, so your miners will continue to earn passive crypto income as long as you log in at least once every 5 days.
What is the Rollercoin Season Pass / Event Pass?
Known by many as either the Rollercoin season pass or the Rollercoin event pass, the Rollercoin season pass is your ticket to unlocking all of the rewards given out each season.
There is a free and a paid event pass, with the free pass only receiving a portion of the freebies available on the season pass and the paid event receiving everything available on the pass. You can decrease the price of the paid season pass by completing tasks.
Click here to learn about Season 5 in Rollercoin!
Rollercoin event quests you can complete to progress in the event pass include tasks like playing games, buying lootboxes, and visiting social pages. You progress one level in the event pass for every 100 xp you earn. Every level you complete awards you with a corresponding item and decreases the price of the paid event pass by 10 RLT, or the equivalent of 10 dollars.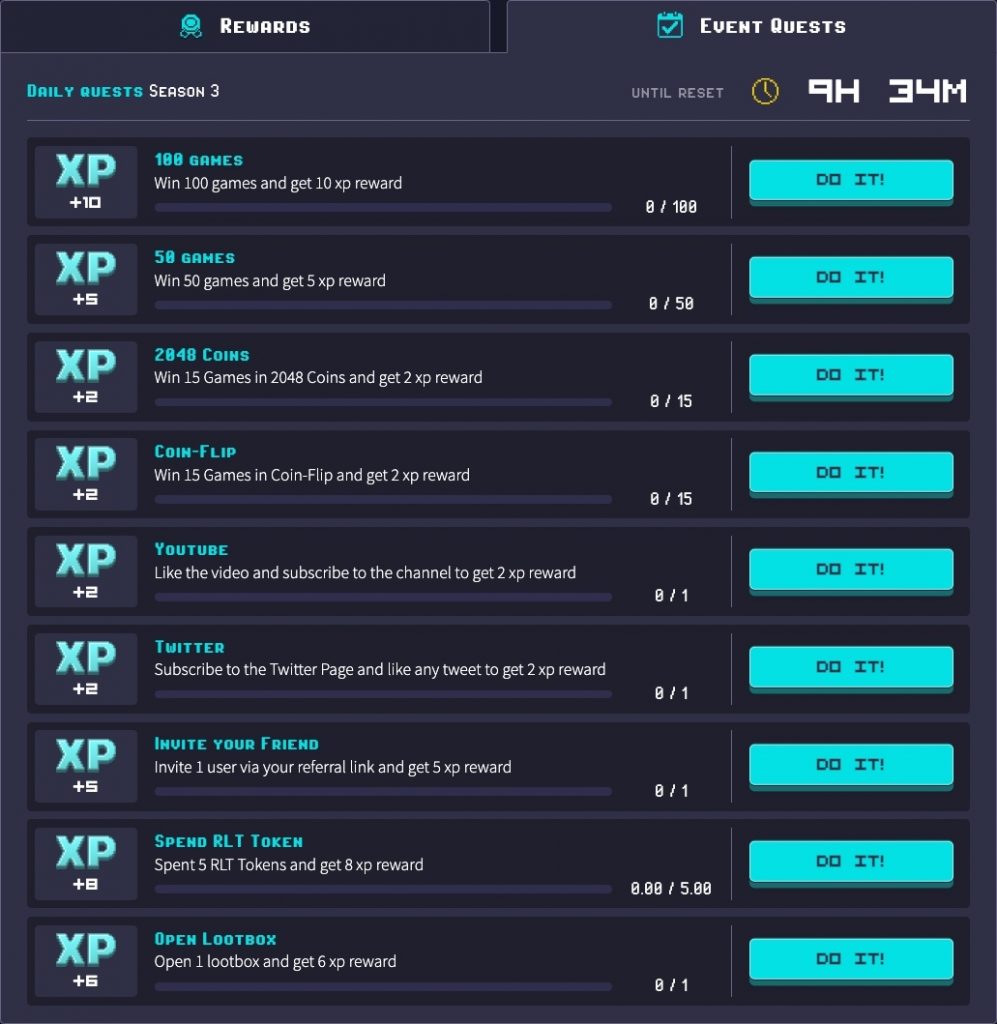 What is the Rollercoin Marketplace?
The Rollercoin Marketplace is currently in development but will be a player-run exchange for Rollercoin miners and miner upgrade parts. Users will be able to buy and sell miners and miner upgrade parts for RLT. The marketplace may be a good way to gain limited time miners and boost your Rollercoin bonus power. The Rollercoin Marketplace is expected to release in season 5.
Is there a Rollercoin App?
No, there is no official Rollercoin app. Any Rollercoin app is potentially fraudulent and may result in the loss of your account or crypto. You can only access Rollercoin at www.rollercoin.com. You can access the website and play games on mobile as well as on a computer though.
What Rollercoin Games are there to Play?
There are currently 12 different games on Rollercoin that you can play to earn crypto. New games are introduced regularly as well. Each game takes less than 60 seconds, or a minute, to complete. Mining power is the reward for playing games and is measured in gh/s, or gigahashes per second. The reward for playing games varies based on game, with the mining power rewards for each game listed below.
Coinclick: 200 – 277 gh/s
Token Blaster: 1092 – 2352 gh/s
Flappy Rocket: 396 – 672 gh/s
Cryptonoid: 1128 – 1952 gh/s
Coin-Match: 360 – 521 gh/s
Crypto Hamster: 1015 – 1692 gh/s
2048 Coins: 168 – 504 gh/s
Coin-Flip: 192 – 336 gh/s
Dr. Hamster: 502 – 806 gh/s
Token Surfer: 588 – 1029 gh/s
Lambo Rider: 1088 – 1760 gh/s
Enter the Chainers: 400 – 1500 gh/s
The reward for completing a game increases every 3 times you complete the game but the difficulty of the game increases alongside the reward of the game.
The mining power you receive lasts between 1 to 7 days. The amount of time the mining power earned from games lasts for increases based on how many games you play, signified by the computer on the homepage. Once you unlock a computer that allows for longer lasting mining power, you only need to play one game a day to maintain the unlocked computer and extended mining power from games.
Rollercoin minigames also occasionally drop bonus rewards like extra mining power, parts to upgrade miners, and sometimes even actual Rollercoin miners.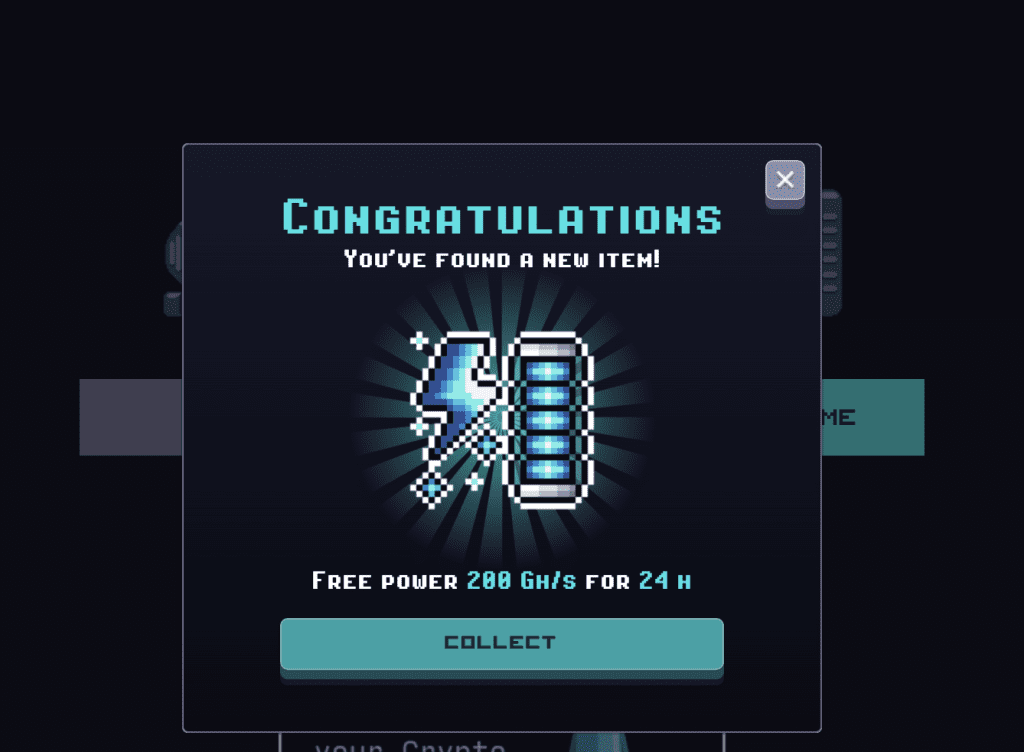 What is Rollertoken (RLT) and What is Rollertoken Worth?
Rollertoken is the official token used by Rollercoin for all purchases made on Rollercoin. You can use Rollertoken to buy new miners to earn passive crypto income, to upgrade miners to mine even more crypto, and to increase the amount of miners you can own total.
The Rollercoin token, or Rollertoken, is worth exactly 1 USD.
Rollercoin How to Get RLT
There are 3 different ways how to get RLT, or Rollercoin token, in Rollercoin.
The first and most straightforward way how to get RLT in Rollercoin is to buy it. You can buy Rollercoin token on Rollercoin by clicking on the 'Wallets' tab under the right sidebar. There you can buy RLT under the 'Wallets' tab with other crypto on your account. You can exchange crypto for RLT at a rate of $1 per RLT. RLT is only exchangeable one way, meaning you can exchange your crypto to RLT but you can not exchange your RLT to crypto.
The second way how you can get RLT in Rollercoin is by mining RLT. You can choose to mine RLT on the homepage by clicking on the down arrow on the 'My Power' tab on the left side of the page. After selecting the down arrow on the 'My Power' tab, you click the blue button that says 'Split Power.' Now you can allocate between 0-100% of your mining power to mine RLT, or to mine any other crypto available.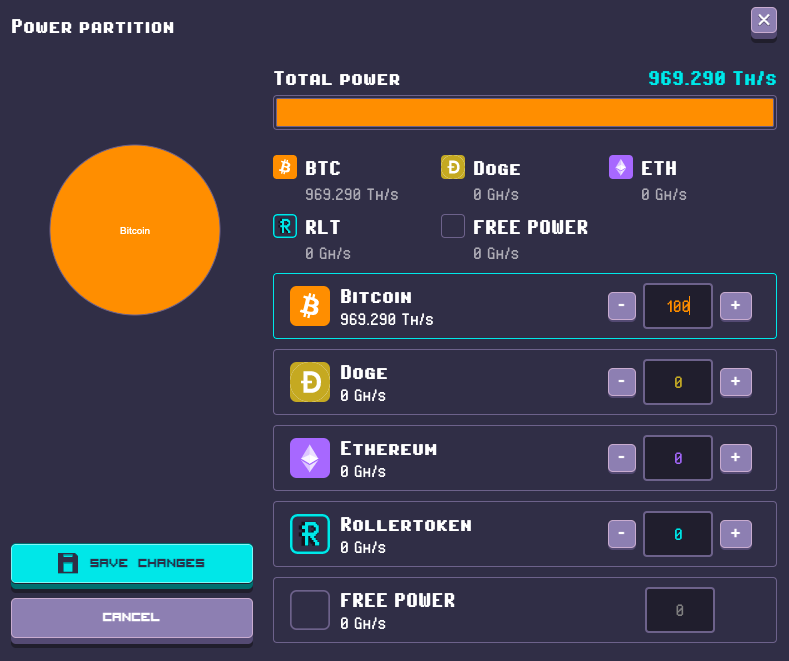 The third way how to get RLT in Rollercoin is through the taskwall. The Rollercoin taskwall awards RLT for completing short tasks like watching videos, completing surveys, and downloading apps.
How to Deposit Crypto to Rollercoin
You can deposit crypto to Rollercoin through the 'Wallets' tab on the drop down menu on the right side of the page. On the 'Wallets' page, you can choose the crypto you want to deposit to Rollercoin. There you can just send the corresponding crypto to your Rollercoin deposit address on the 'Wallets' page and the crypto will show up in your account when the transaction is processed.
Is Rollercoin a Scam? Or Is Rollercoin Legit?
Rollercoin has been consistently paying out crypto for over 3 years now and has paid over 33 bitcoin between nearly 3,000,000 users over this period. Rollercoin is not a scam and Rollercoin is legit.
Whether you want to invest in Rollercoin miners to earn passive crypto or you want to play games to earn free crypto, Rollercoin is certainly worth your time. Rollercoin is one of the best passive crypto games and is one of the best ways to earn free crypto, with many Rollercoin users earning a substantial passive income of hundreds of dollars a month.
Just make sure to login occasionally to replenish your Rollercoin electricity!
Sign up for Rollercoin and Get 1,000 Satoshi for Free.
Click Here to Sign Up for Rollercoin and Get 1,000 Satoshi for Free!