What is Yieldly?
Yieldly is a DeFi dApp, or decentralized finance decentralized app, run on the Algorand blockchain and interconnected to other blockchains like the Ethereum blockchain. Yieldly provides multiple ways to earn Algorand, other crypto, and ASAs, or Algorand Standard Assets. Algorand Standard Assets are the term for any cryptocurrency or other asset hosted through Algorand. You can earn on Yieldly through staking pools, liquidity pools, and more. Learn how to earn on Yieldly and where to buy Yieldly coin in this guide.
Yieldly also refers to the Yieldly Token, YLDY, the ASA used on Yieldly. Learn about the Yieldly token tokenomics and where to buy Yieldly coin later in the article.
Disclaimer: There are affiliate links used in this article. Passive Pete may receive a commission when you click affiliate links in this article. Clicking affiliate links in this article will not cost you anything extra. Thanks! – Passive Pete
Disclaimer: Information available on this website, WorkSmartEarnMore.com, is not financial advice. Information on this website, WorkSmartEarnMore.com, is not legal advice. Passive Pete is not a financial advisor, a lawyer, or an accountant, and Passive Pete is not your financial advisor, lawyer, or accountant. Any action you take upon reading information in this article or on this website is solely at your own risk. Information on this website is solely for educational purposes and individuals should consult qualified professionals (i.e. Not Passive Pete) for financial or legal advice.
Where to Buy Yieldly Coin?
There are centralized crypto exchanges where you can go to buy Yieldly Coin on as well as decentralized exchanges.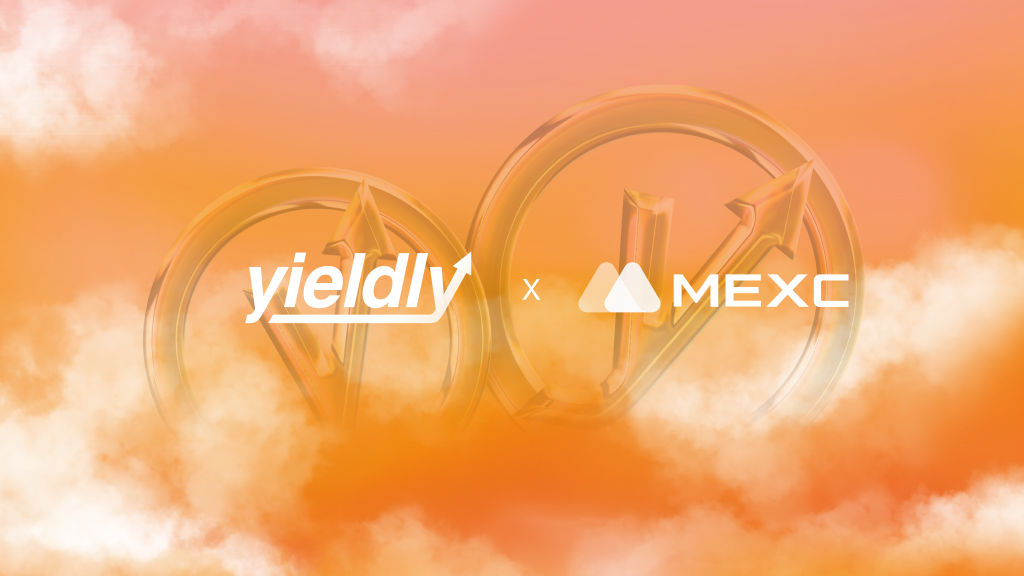 Where to Buy Yieldly on Centralized Exchanges
There are few centralized exchanges where you can buy Yieldly Coin, or YLDY. You can buy and sell Yieldly coin, YLDY, on MEXC Global. Click here to sign up for MEXC Global to buy and sell Yieldly Token YLDY.
Where to Buy Yieldly Coin on Decentralized Exchanges
Tinyman is a decentralized crypto exchange on Algorand where you can buy and sell Yieldly. You can buy Yieldly on Tinyman with Algorand, USDC, and almost any other ASA as long as there is liquidity. All you need to buy and sell Yieldly Coin on Tinyman is an Algorand wallet like Pera Wallet or MyAlgoWallet.
Yieldly Tokenomics
This information was gathered in May 2022 and is be subject to change.
Yieldly Token Price: $.001883
Yieldly Token Total Supply: 10,000,000,000
Yieldly Token Circulating Supply: Roughly 5,800,000,000
Yieldly Market Cap: Roughly $7,000,000
How to Use Yieldly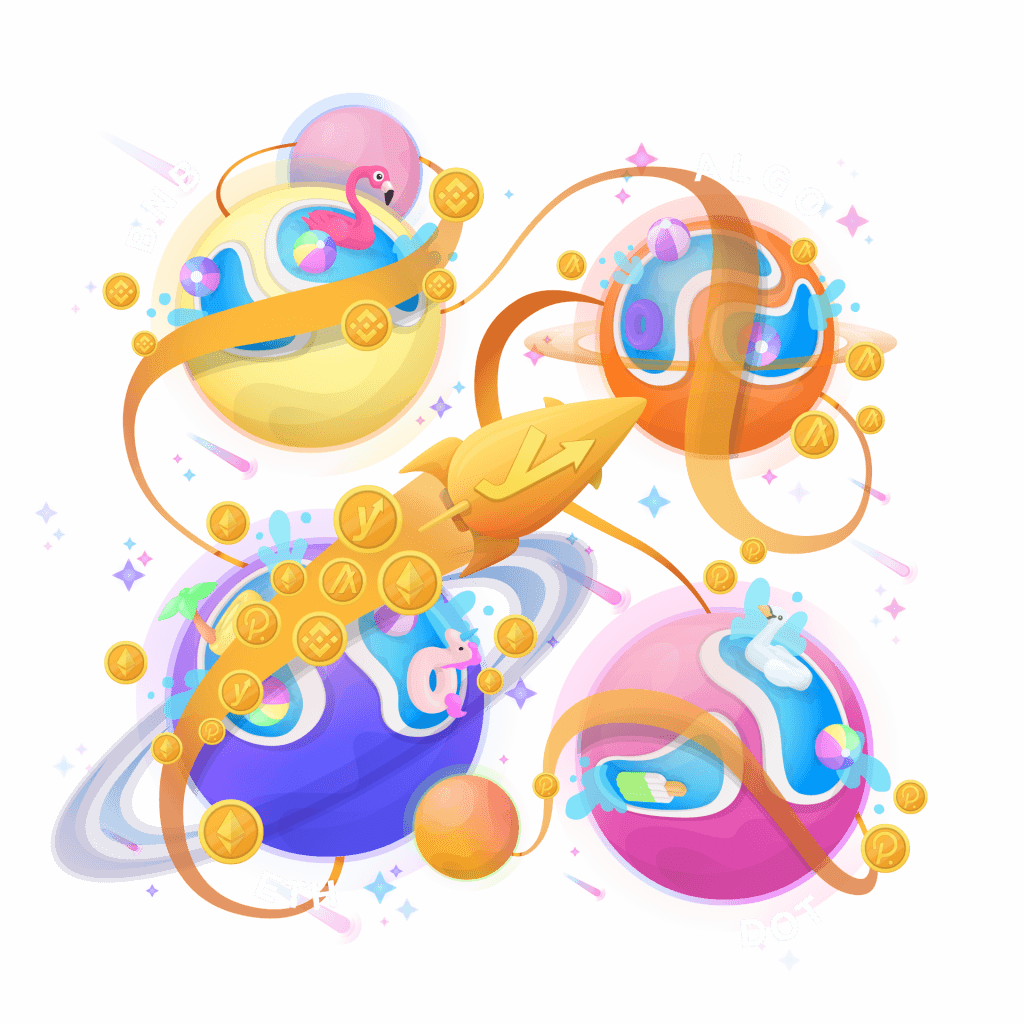 All you need to use Yieldly is an Algorand wallet. You can use the official Algo Wallet called Pera Wallet, the browser wallet called MyAlgorandWallet, or the chrome extension Algosigner. You can view the different ways to earn on Yieldly as well as the current Yieldly token price on the sidebar on the left side of the screen.
Using Yieldly requires you to have some Algorand in your wallet for gas fees and to opt-in to staking pools.
Gas fees on Algorand are .001 per transaction, or less than a tenth of a cent. Having at least 1 Algo in your wallet ensures you can complete 1,000 transactions.
Opting-in to Yieldly and the services offered on Yieldly require you to opt-in. Opting-in locks a certain amount of Algo in your wallet. The amount of Algorand required to opt-in is displayed when opting-in. You can't use this Algo while it is locked up but you can opt-out at any time to retrieve your Algorand.
First you have to opt-in to the Yieldly platform with your Algorand wallet. Then you can opt-in to the staking pool, liquidity pool, or distribution pool of your choice. After opting-in to a Yieldly pool, you can stake your crypto and start earning passive income.
How to Earn on Yieldly?
There are a variety of ways to earn on Yieldly currently, including staking pools, liquidity pools, and distribution pools. New ways to earn on Yieldly are in development and may arrive in 2022.
Related: Earn Crypto by Playing Games on Rollercoin!
#1. Yieldly Staking Pools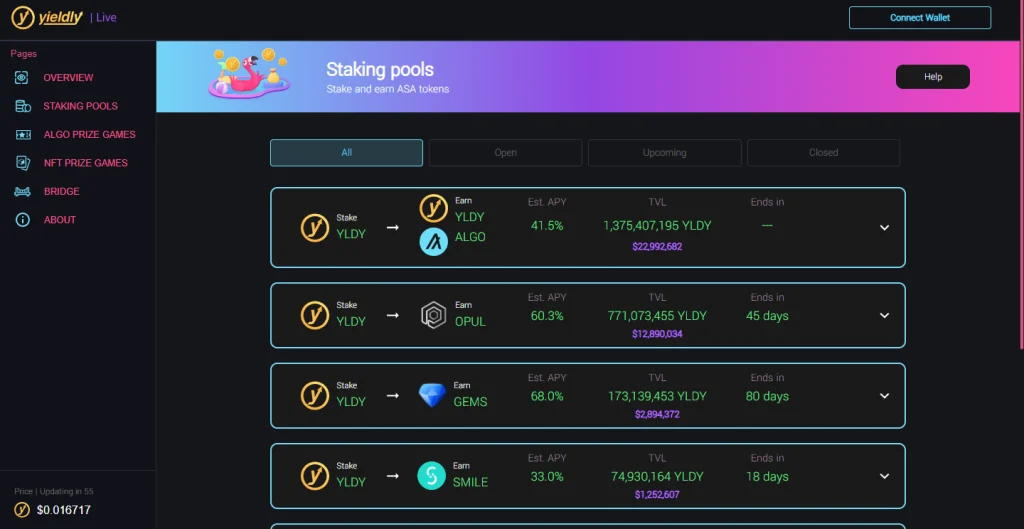 Staking pools are the most popular way to earn Yieldly token and other crypto on Yieldly.
Yieldly Staking pools reward crypto based on the amount of crypto you have put in the pool. Staking pool rates are displayed on each staking pool. Each staking pool has a specific crypto that you can stake and each rewards a different crypto. For example, one of the more popular staking pools requires you to stake Yieldly token and rewards Yieldly token and Algorand.
Multi-asset staking pools are one of the defining features of Yieldly. You can receive staking rewards in multiple different cryptocurrencies and ASAs. One notable example of Yieldly multi-asset staking pools is the previously mentioned Yieldly and Algo staking pool where you can earn Yieldly token and Algorand for staking Yieldly token.
Staking pools for new cryptocurrencies and ASAs are always being added to Yieldly. Some staking pools are limited by time though, with some only lasting for a few months. The length of a staking pool is listed alongside specific staking pools. Despite time limits on staking pools, you can deposit and withdraw your staked crypto on Yieldly at any time during that period.
When to Claim Yieldly Rewards?
Staking rewards are delivered on Yieldly once per day. You can claim your rewards as often or as little as you'd like. Rewards can be put back into the staking pool to compound and exponentially scale your passive income earnings. Unclaimed rewards can differ based on current staking rates, meaning your staking rewards could be higher or lower if you choose to wait on claiming your rewards.
#2. Yieldly Liquidity Pools
Liquidity pools are similar to staking pools in that you lock up a certain amount of crypto and get rewards in return. Instead of staking crypto in liquidity pools, you stake liquidity pool tokens from providing your crypto as liquidity on Tinyman. While this option is more complicated than staking pools, liquidity pools can allow you to earn even more income if you are already providing liquidity on Tinyman, which already provides rewards of its own.
Just like staking pools, the terms of liquidity pools are displayed alongside each liquidity pool. Liquidity pool rewards are also delivered once per day and are subject to the same terms as the staking pools as described in the 'Yieldly Staking Pools' section of the article.
#3. Yieldly Distribution Pools
Yieldly distribution pools are another way to earn that is similar to staking and liquidity pools. The difference between Yieldly distribution pools and staking and liquidity pools is that distribution pools are limited to new crypto offerings and offer much higher staking rates. Distribution pools are a good way to earn new cryptocurrencies and ASAs on the Algorand blockchain.
What Happened to the Yieldly No-Loss Lottery and Yieldly NFT Prize Games?
Both the Yieldly No-Loss Lottery and the Yieldly NFT Prize Games have been discontinued. The rewards for the Yieldly No-Loss Lottery had been dependent on Algorand staking rewards and the No-Loss Lottery had been discontinued once staking rewards had Algorand decreased.
There are currently no plans to reintroduce the No-Loss Lottery on Yieldly. However, Yieldly has expressed interest in reintroducing the Yieldly NFT Prize Games in the future.
Future of Yieldly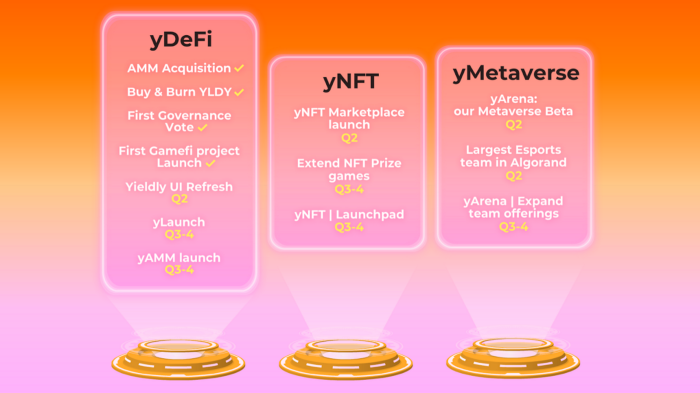 The future of Yieldly in 2022 and beyond looks promising, with many developments on the horizon.
One feature coming to Yieldly that is worth looking forward to is the creation of a decentralized exchange. Users may soon be able to buy and sell crypto and ASAs directly on Yieldly on the Algorand blockchain. Be on the lookout for the introduction of DeFi to Yieldly in quarter 3 or quarter 4 of this year!
Another feature on the roadmap for Yieldly in 2022 is the introduction of play-to-earn games. Keep an eye out for Cosmic Chimps, the first play-to-earn game coming to Yieldly.
Yieldly also plans to release an NFT marketplace in 2022. You will be able to mint and sell NFTs on the Algorand blockchain through Yieldly.
Is Yieldly Worth it?
Yieldly is a good way to earn passive income with Algorand. Yieldly is also useful for obtaining new assets on the Algorand blockchain. Yieldly is especially worth your time if you could be staking crypto or liquidity pool tokens you already have in your wallet to earn passive income without any investment. Due to being on the Algorand blockchain, gas fees for using Yieldly are incredibly low and make it easy to try out Yieldly.