It can be tough choosing a platform to manage your cryptocurrency on nowadays with so many options, learn about the Stakecube Exchange in this review. In this Stakecube Exchange review we will review the Stakecube exchange and explore the features offered on Stakecube. Stakecube is a rapidly growing cryptocurrency platform that is great for earning passive income and offers a ton of different services. Keep reading to learn about the Stakecube Exchange, Stakecube mining pools, how to earn interest on Stakecube, and more!
Disclaimer: Information available on this website, WorkSmartEarnMore.com, is not financial advice. Information on this website, WorkSmartEarnMore.com, is not legal advice. Passive Pete is not a financial advisor, a lawyer, or an accountant, and Passive Pete is not your financial advisor, lawyer, or accountant. Any action you take upon reading information in this article or on this website is solely at your own risk. Information on this website is solely for educational purposes and individuals should consult qualified professionals (i.e. Not Passive Pete) for financial or legal advice.
What is Stakecube?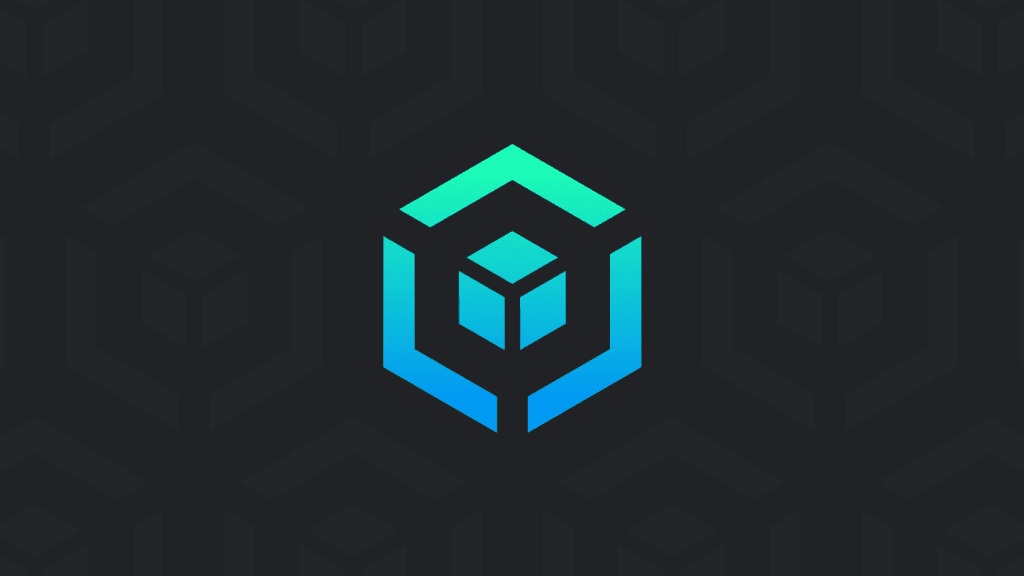 Stakecube is an all encompassing cryptocurrency platform with a variety of services. Services on Stakecube include the Stakecube Exchange, Stakecube mining pools, crypto staking, and more. There are over 70 different cryptocurrencies that you can buy, sell, and hold on Stakecube.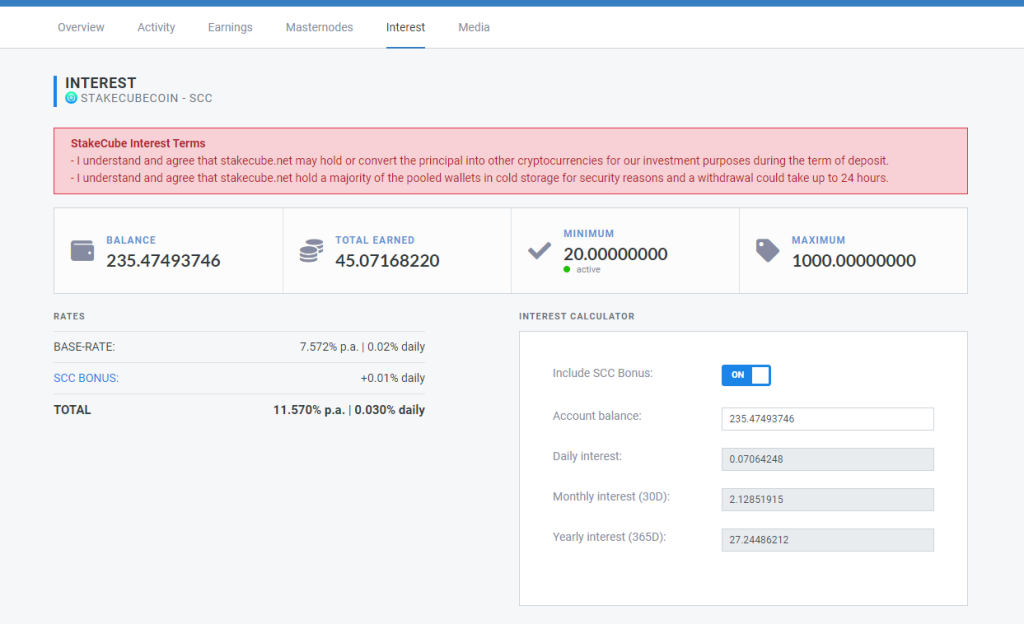 You can store your cryptocurrency on Stakecube to receive automatic staking rewards and interest on certain coins delivered directly to your wallet. Cryptocurrencies you can earn interest on with Stakecube include Bitcoin, Dogecoin, Litecoin, and Stakecube Coin. Interest rates on Stakecube are currently at 7.2% annually for the previously mentioned cryptos. You do need to hold a minimum amount of a crypto to earn interest, with this amount varying by cryptocurrency.
Any proof-of-stake, or PoS, coin that is on Stakecube and held in your Stakecube wallet will earn staking rewards automatically. Staking rewards are paid as frequently as they are distributed on the blockchain, with some cryptocurrencies distributing staking rewards every few minutes! There is no minimum amount needed to start receiving staking rewards. Staking rewards are paid based on how much crypto you hold in your wallet though.
Want to learn more about passive income? Click here!
What is Stakecube Coin?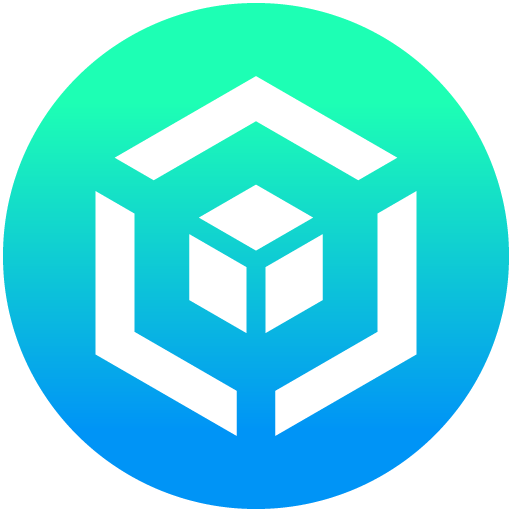 The Stakecube Coin, SCC, is the native cryptocurrency of Stakecube. You can use Stakecube Coin for a variety of purposes on Stakecube, including buying miners and registering master nodes. Stakecube Coin can be bought and sold directly on the Stakecube Exchange. You can also earn interest on your Stakecube Coin just by holding it in your wallet!
Stakecube Coin (SCC) Tokenomics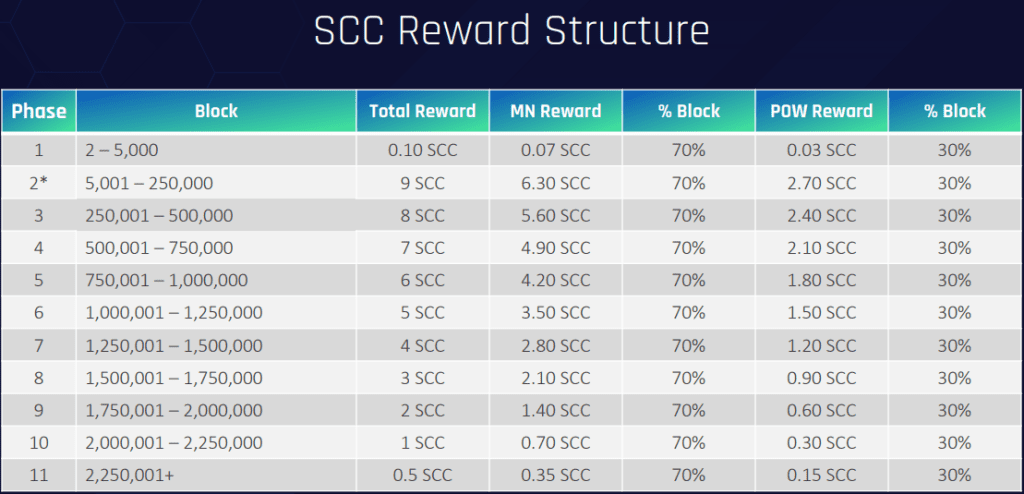 Stakecube Coin (SCC) Total Supply: 18,000,000
Stakecube Coin (SCC) Circulating Supply: 10,860,692 (June 2022)
Stakecube Coin (SCC) Marketcap: $1,818,152 (June 2022)
Stakecube Master Nodes – Nodecube Review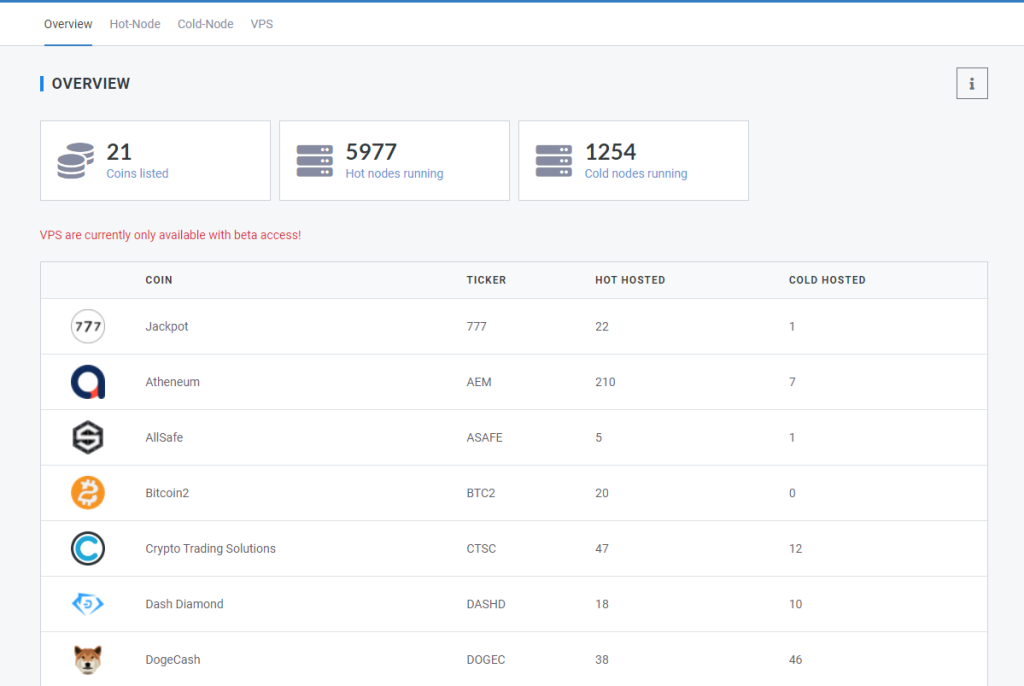 You can host master nodes on Stakecube through a service called Nodecube. You will receive daily rewards for hosting a master node. Your rewards are typically paid through the crypto that you are setting up a master node for. There are 24 different cryptocurrencies that you can set up a master node for on Stakecube. The amount you need to set up a master node, or the collateral, differs for each cryptocurrency. There is no lock-in period for your collateral either, you can withdraw your crypto from the master node whenever you'd like.
Stakecube NFTs
You can now mint, buy, and sell NFTs directly on Stakecube. These NFTs, or non fungible tokens, are stored on the SCP blockchain, the same blockchain Stakecube Coin is run on. NFTs can be bought with Stakecube Coin and are stored in your wallet under the NFTs tab. You can receive NFTs using your SCP address as well.
Stakecube Miners – Minecube Review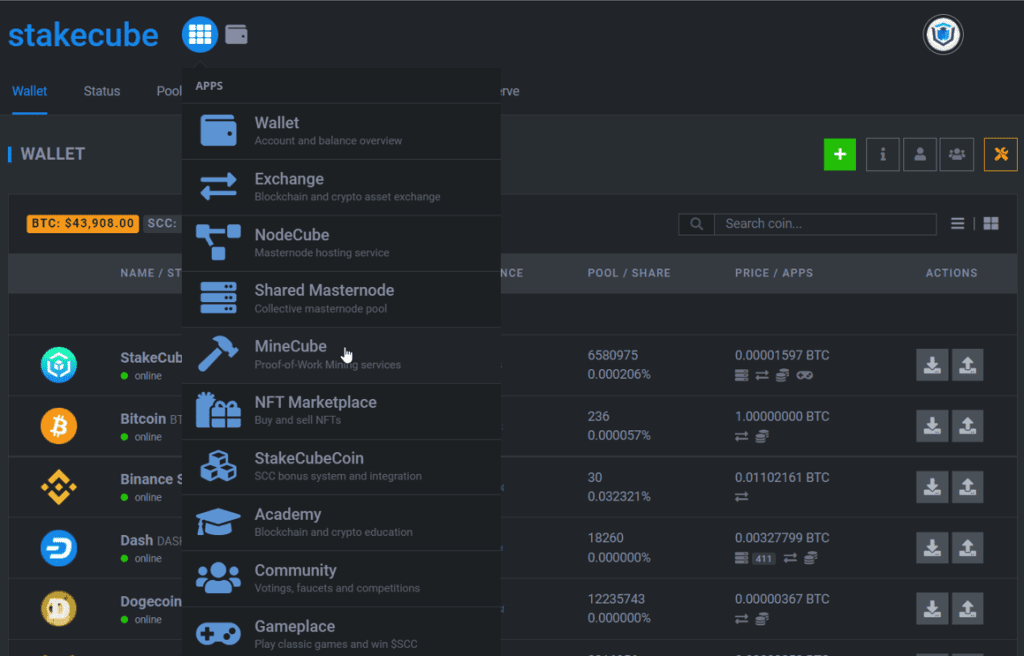 You can earn rewards with Stakecube by mining crypto through Minecube. Minecube offers 3 main services: cloud mining, web mining, and self-hosted mining pools.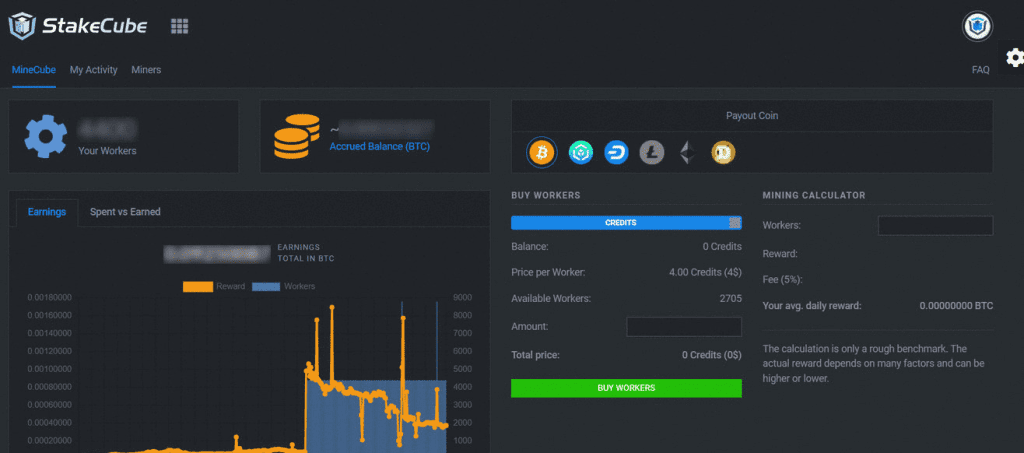 Cloud mining services on Stakecube consist of workers that you can buy for Stakecube Coin. These workers will provide daily income from mining cryptocurrency. You can receive rewards in Bitcoin, Stakecube Coin, Dogecoin, Ethereum, Dash, or Litecoin. Workers cost 4$ in Stakecube Coin and will continue to payout rewards as long as the mining machines are profitable.
You can mine small amounts of cryptocurrency using your web browser through Stakecube web mining. Just start up the web miner and you'll start receiving Stakecube Coin.
How to Use Stakecube Faucet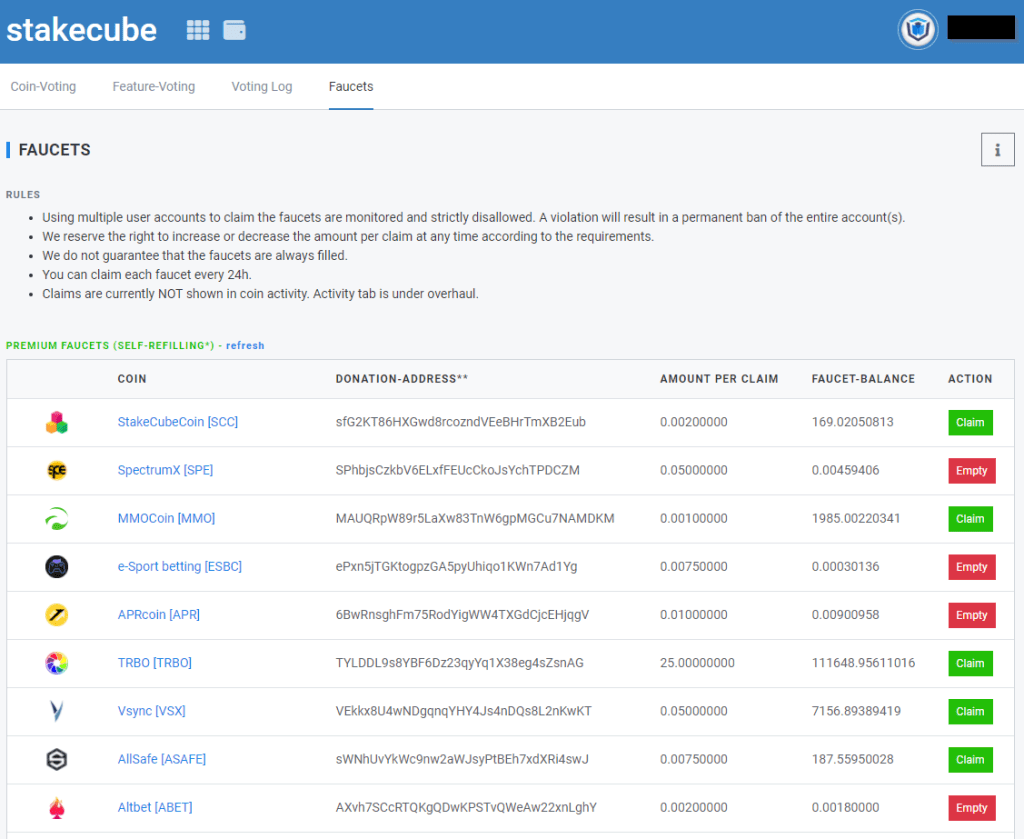 The Stakecube Faucet is a way to earn small amounts of cryptocurrency for free everyday.
You can access the Stakecube Faucet under the 'Community' page. Once on the 'Community' tab, there is a tab called 'Faucets' where you can see all the available faucets on Stakecube.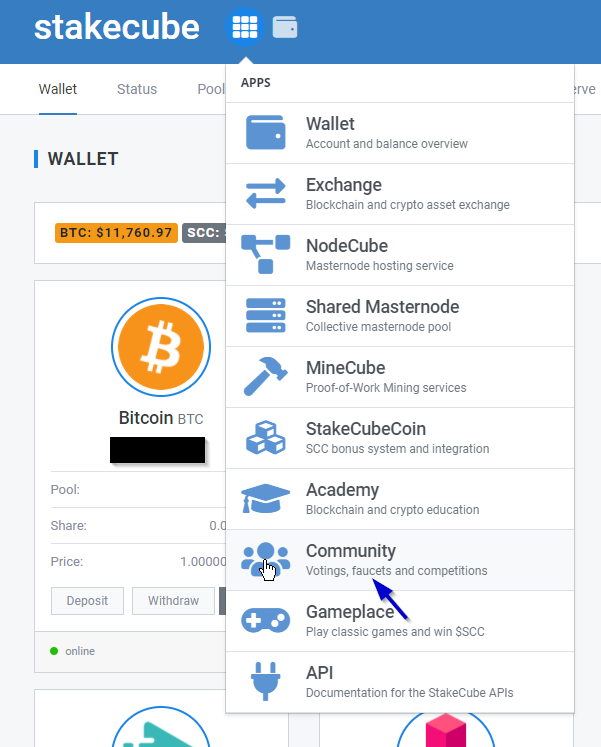 There are official faucets that are refilled by Stakecube and unofficial faucets that are refilled by the community. Official wallets reward cryptocurrencies like Stakecube Coin while unofficial faucets reward cryptocurrencies like Bitcoin and Dogecoin. You can claim each faucet once every 24 hours.
Stakecube Withdrawal Fees Review
Like the majority of crypto exchanges, there are withdrawal fees to withdraw your cryptocurrency from Stakecube. However, withdrawal fees on Stakecube are a flat fee as opposed to a percentage based fee that you may find on other crypto exchanges. Every cryptocurrency listed on Stakecube has a different withdrawal fee.
Stakecube Exchange Fees Review
There are also exchange fees on Stakecube when you buy or sell cryptocurrency on Stakecube. The exchange fee on Stakecube is .1% from both the buyer and the seller. Compared to other crypto exchanges, the trading fees on Stakecube are considerably lower. The fees collected from the exchange are used to maintain the website and to pay for interest.
Is Stakecube Safe? Is Stakecube Legit?
Stakecube has been successfully distributing earnings and protecting crypto holdings for over 3 years. Stakecube's dedication to its userbase was demonstrated during a hack a few years ago, where Stakecube reimbursed every cent of stolen cryptocurrency. Security is paramount at Stakecube as well, with multiple confirmations being required to login to your account or withdraw cryptocurrency from Stakecube. Interest rates are examined frequently to ensure that Stakecube can continue to payout interest.
Conclusion
Stakecube is a great platform for managing your cryptocurrency. Earn rewards on Stakecube from interest, staking, mining, and masternodes! Stakecube is a good way to start earning passive income through cryptocurrency and Stakecube is completely free to use as well. If you have some proof-of-stake coins you want to stake in one location, Stakecube is a great option. If you're looking for a crypto platform that's easy to use and has lots of different options, why not give Stakecube a try!