Making easy money just by using an app on your phone is often seen as too good to be true, so in this Bubble Cash Review we'll find out if Bubble Cash is really legit or not. If you're anything like me, you probably found Bubble Cash either by browsing the app store or just through reading online for ways to make money on your phone. Bubble Cash is a game that you can download on your phone that advertises itself as a way to make money just by playing games. Keep reading to answer all of your burning questions in this Bubble Cash Review, like whether Bubble Cash is legit or not and how to withdraw your earnings!
Disclaimer: Information available on this website, WorkSmartEarnMore.com, is not financial advice. Information on this website, WorkSmartEarnMore.com, is not legal advice. Passive Pete is not a financial advisor, a lawyer, or an accountant, and Passive Pete is not your financial advisor, lawyer, or accountant. Any action you take upon reading information in this article or on this website is solely at your own risk. Information on this website is solely for educational purposes and individuals should consult qualified professionals (i.e. Not Passive Pete) for financial or legal advice.
How to Play Bubble Cash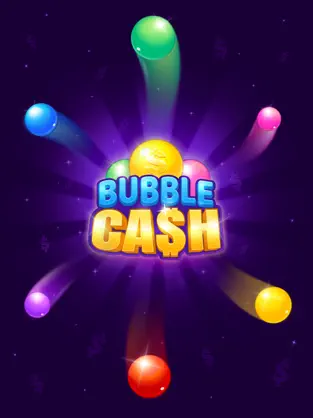 The game play of Bubble Cash is relatively straight forward and very similar to other classic bubble shooters. Bubble Cash revolves around shooting colored bubbles at large group of bubbles at the top of the screen. If you hit a bubble with the same color bubble, you will destroy the area and earn points based on how many bubbles were in the group of same colored bubbles. The more bubbles you pop, the more points you earn! Each round in Bubble Cash lasts for 3 minutes, leaving you a short period to earn as many points as you can. You get 3 'shots' to earn points with that reset each time you earn points by creating groups of bubbles with at least 3 bubbles of the same size. If you don't earn points within 3 attempts, the game ends. At the end of the round, you can earn additional points if you clear the board entirely and if you have time left over.
Don't worry if that explanation seems confusing, the game play of Bubble Cash is very easy to learn and won't take you more than a couple of tries to master. Bubble shooter games are a classic type of game that many people, including myself, actually like to play even without earning money.
Game Modes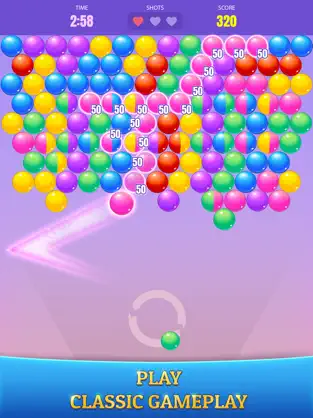 There are 2 main game modes in Bubble Cash that feature identical game play but differ in key areas. You can play the regular game mode that does not require an entry-fee of Bounce Cash, the in-game currency that you can redeem for money, but rather requires an entry-fee of Gems, the in-game currency that is not redeemable for real money. This means that the game mode in Bubble Cash with an entry-fee of gems will also pay out gems to the winner(s).
The other game mode in Bubble Cash is the tournament mode that has an entry fee of Bounce Cash and pays out Bounce Cash to the winner(s), which is the currency you could redeem for real money. This results in players being unable to even participate in tournaments for real cash without first depositing money. There are occasionally tournaments that require an entry-fee of Gems instead of Bounce Cash, allowing you to potentially play for free. Although you can potentially earn enough Bounce Cash to redeem for real money just from playing for free, Bubble Cash does require that you make at least one deposit before making a withdrawal.
Want to vet more apps that claim to have the potential to earn you money? Click here!
Does Bubble Cash Pay Real Money?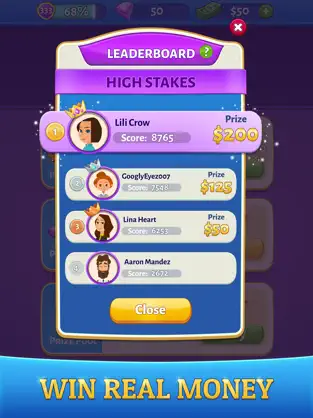 From the information we have uncovered from our exploration of the Bubble Cash app, it seems that you can successfully withdraw your earnings from the app to real money. That being said, the app might seem misleading by the shared assumption of many believing that all actions in the game earn money. Unfortunately, the only time you receive points with real monetary value is when you win tournaments.
Just because you can potentially earn real money from playing Bubble Cash, that doesn't mean it's easy or even realistic to do so. In fact, tournaments even have an entry fee of the in-game currency of Bounce Cash, meaning you can actually lose money in a sense by playing tournaments. The silent requirement that players have to spend money in-app for the possibility to win real money makes actually earning any real money from this app much more difficult for many.
Aside from playing games, you can also earn some extra money on Bubble Cash with the referral program. You can get $1 for every person that signs up using your referral code.
Check out our Lucky Chip Spin review here!
How to Withdraw from Bubble Cash?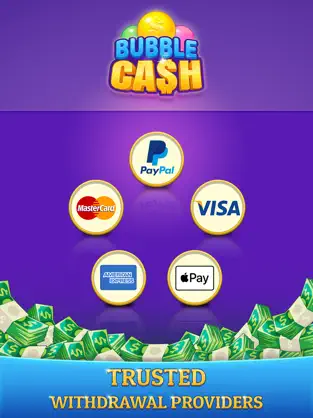 There are multiple ways available for you to cash out and withdraw your hard-earned money from Bubble Cash, assuming you meet the minimum withdrawal amount that is. One of the most common ways, if not the most common way, to withdraw real cash from Bubble Cash is by using PayPal. You can also cash out your earnings from Bubble Cash using a card like MasterCard, American Express, or Visa. If you have an Apple device, you can even take your winnings through Apple Pay.
Withdrawal requests on Bubble Cash can take up to 14 days to process. The actual withdrawal itself after being approved typically processes in 3-5 days. There is also a small withdrawal fee that will be deducted from the amount you are withdrawing.
Is Bubble Cash Legit or Not?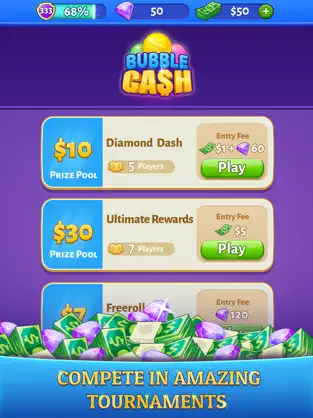 Deciding whether Bubble Cash is legit or not is a tricky question, with our answer standing at somewhere in the middle of "kinda legit" and "not really legit". You technically can earn Bounce Cash from playing in tournaments and through referral bonuses, and you can withdraw real money from Bubble Cash from redeeming Bounce Cash. Users of Bubble Cash have reported that withdrawal systems are legitimate and functioning as long as you get enough Bounce Cash.
However, it is difficult to earn Bounce Cash to cash out for real money and you may not even ever reach the minimum withdrawal amount. To earn points from tournaments, you not only have pay an entry fee but you also have to get the highest score out of all of the other players in the tournament. The fact that you can actually lose money overall through the need to purchase Bounce Cash to even participate in real money tournaments is a large negative in our eyes.
Conclusion
So while it is technically possible for you to earn money from playing Bubble Cash, it is not likely that you will be withdrawing a single cent from Bubble Cash anytime soon. To even have the possibility of winning real money from Bubble Cash, you first have to purchase Bounce Cash with real money, leaving you open to actually spending money from using this app. Additionally, the competition within tournaments can be pretty tough, so you might not earn any money by playing unless you are really good at this type of game. That being said, you can withdraw your earnings from Bubble Cash successfully as long as you achieve the minimum withdrawal amount. Let us know what you think! Have you ever played Bubble Cash? Is Bubble Cash legit?